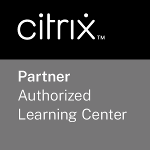 Citrix Virtual Apps and Desktops 7, App Layering and WEM Administration (Fast-Track) (CMB-318)
Course Overview
This accelerated 5-day course is designed for experienced IT professionals to build the foundational administration aspects of installing, configuring and managing a Citrix Virtual Apps and Desktops 7 environment. Learn about configuring policies, printing and basic security features as well as more advanced topics including Windows Environment Management (WEM) and App Layering. Gain an understanding of the solution architecture and communications, and the factors that contribute to a successful deployment. Also learn how to monitor and troubleshoot the environment with a Citrix Director and Citrix Analytics.
Certifications
This course is part of the following Certifications:
Course Objectives
Key Skills
How to install, configure, and manage a Citrix Virtual Apps and Desktops 7 site on-premises and on Citrix Cloud including how to migrate from on-premises to Citrix Cloud
How to configure Workspace Environment Management to improve the end user environment and virtual resource consumption
App Layering skills to create and administer OS, platform, application, elastic and user layers
How to deploy and deliver apps and desktops to end users using Machine Creation Services (MCS)
Follow On Courses
Online Training
Duration 5 days
Price
(excl. tax)
Eastern Europe:

US$ 3,510.-
Classroom Training
Duration 5 days
Price
(excl. tax)
Eastern Europe:

US$ 3,510.-
E-Learning
Duration 90 days
Price
(excl. tax)
Eastern Europe:

US$ 4,000.-
Buy E-Learning
Schedule
English
1 hour difference
Online Training
This is an English language FLEX course.


Time zone: British Summer Time (BST)
German
Time zone Central European Summer Time (CEST)
Instructor-led Online Training: This computer icon in the schedule indicates that this date/time will be conducted as Instructor-Led Online Training.
Slovenia
Currently no local training dates available. For enquiries please write to info@fastlane.si.
Europe
United Kingdom
Online Training

This is an English language FLEX course.

Time zone: Europe/London

Enroll