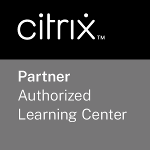 Citrix Networking Assessment, Design and Advanced Configuration (CNS-420)
Course Overview
In this expert level 5-day training course you will be exposed to advanced networking and Citrix ADC concepts and configurations. Through lecture, lab exercises, and real-world case studies, you will learn to look critically at environment requirements, constraints, and business drivers to create a complex Citrix networking solution. Topics to be covered in this course include multi-site and multitenant deployments, advanced authentication and load balancing, and automation and orchestration and advanced troubleshooting. This training will also prepare you for the Citrix Certified Expert in Networking (CCE-N) exam.
Versions covered
This course is currently on Citrix ADC version 12.x, but is still applicable for learners of previous versions of the product
Who should attend
Built for IT Professionals with extensive networking and Citrix ADC experience. This course is built for IT Professionals who are responsible for defining the overall structure or architecture of a Citrix networking environment. This course encompasses advanced Citrix networking configurations and leading Citrix design principles.
Certifications
This course is part of the following Certifications:
Course Objectives
What you'll learn
How to identify and prioritize business drivers, constraints, and requirements using the Citrix Consulting methodology
Assess environment requirements and learn to apply leading design principles to address them in a multi-site Citrix ADC deployment
Apply advanced authentication and load balancing principles
Online Training
Duration 5 days
Price
(excl. tax)
Eastern Europe:

US$ 2,925.-
Classroom Training
Duration 5 days
Price
(excl. tax)
Eastern Europe:

US$ 2,925.-
Schedule
German
Time zone Central European Summer Time (CEST)
Online Training
This is an German language FLEX course.


Time zone: Central European Time (CET)
French
Time zone Central European Summer Time (CEST)
Instructor-led Online Training: This computer icon in the schedule indicates that this date/time will be conducted as Instructor-Led Online Training.
Slovenia
Currently no local training dates available. For enquiries please write to info@fastlane.si.
Romania
Online Training

This is an English language FLEX course.

Time zone: Europe/Bucharest

Course language:

English

Enroll
Europe
Switzerland
Online Training

This is an German language FLEX course.

Time zone: Europe/Zurich

Enroll