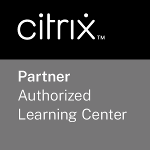 Deploying Enterprise Mobility Solutions with Citrix Endpoint Management (CXM-303)
Course Overview
Begin your enterprise mobility management (EMM) journey with this five-day introduction to Citrix Endpoint Management. You will learn how to stand up a highly available Endpoint Management deployment and conduct initial configurations. Delve into the Citrix Endpoint Managementarchitecture and explore the many device and application management options to address your enterprise mobility needs. In this course you will gain the skills and understanding needed to deploy key components. You will also learn how to integrate Citrix Endpoint Management with other Citrix technologies such as Citrix Virtual Apps and Desktops, Citrix ADC, and Citrix Content Collaboration. Take a tour of the Citrix Secure applications available and learn about your device enrollment and troubleshooting options.
Versions covered: This course is based on the latest Citrix Endpoint Management product release, but the skills and fundamental concepts learned apply to earlier product versions.
Who should attend
Built for IT Professionals interested in learning how to implement Citrix Endpoint Management features using leading practices. Potential students include Administrators, Implementers/Engineers, and Architects.
Prerequisites
Citrix recommends students prepare for this course by taking: Endpoint Management Introduction eLearning bundle and have basic experience with Mobile Devices and Apps, Windows Server administration, Enterprise File Sharing and Sync, Virtual Apps and Desktops, Microsoft SQL Server, Active Directory and Group Policy, and Networking including VPN concepts, SSL encryption and certificates.
Course Objectives
What you'll learn
How to deploy Endpoint Management Enterprise end-to-end architecture and identify each component in the solution for the specific use case
Understand Endpoint Management authentication options including PKI "certificate based authentication"
How to install mobile applications: MDX, Web & SaaS, Web Link, Public App Store Enterprise Apps
How to integrate with Citrix Gateway, Load Balancing, SSL Tunneling microVPN (mVPN), and SSL Bridge
Online Training
Duration 5 days
Price
(excl. tax)
Eastern Europe:

US$ 1,850.-
Classroom Training
Duration 5 days
Price
(excl. tax)
Eastern Europe:

US$ 2,340.-
Currently there are no training dates scheduled for this course.