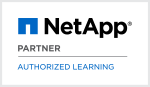 ONTAP Cluster Installation Workshop (COIW)
Who should attend
NetApp and partner PSEs who are responsible for system installation
Prerequisites
Clustered Data ONTAP Fundamentals

!

NA-D8CADM
Clustered Data ONTAP 8.2 Update Curriculum
Clustered Data ONTAP 8.2 New Features
What's New in Data ONTAP 8.2 Licensing
OR
Clustered Data ONTAP Fundamentals

!

NA-D8CADM
Course Objectives
By the end of this course, you should be able to:
List and describe the installation preparation steps
Locate and use references, checklists, and forms
Conduct appropriate discussions with customers
Cable and test a multipath high-availability system to operate as a member of a multi-node cluster
Use the Config Advisor tool
Configure the cluster and switches
Test storage access
Conduct a formal hand off of the system to the customer
Course Content
This course prepares you to deliver clustered Data ONTAP system installation services—meeting NetApp® quality standards and using NetApp best practices. Using your laptop, and the appropriate tools, you practice all installation tasks and set up NetApp equipment in a clustered configuration. You learn how to set up and test access to the system and the AutoSupport Connection, and conduct a customer briefing.
Online Training
Duration 2 days
Price
(excl. tax)
Eastern Europe:

US$ 1,800.-
Classroom Training
Duration 2 days
Price
(excl. tax)
Eastern Europe:

US$ 1,800.-

Bulgaria:

US$ 900.-
Schedule
Guaranteed date: Fast Lane will carry out all guaranteed training regardless of the number of attendees, exempt from force majeure or other unexpected events, like e.g. accidents or illness of the trainer, which prevent the course from being conducted.
Instructor-led Online Training: This computer icon in the schedule indicates that this date/time will be conducted as Instructor-Led Online Training.
Slovenia
Currently no local training dates available. For enquiries please write to info@fastlane.si.
Europe
Germany
Online Training

This is an German language FLEX course.

Time zone: Europe/Berlin

Enroll
France
Online Training

This is an French language FLEX course.

Time zone: Europe/Paris

Enroll

Online Training

This is an French language FLEX course.

Time zone: Europe/Paris

Enroll
United Kingdom
Online Training

This is an English language FLEX course.

Time zone: Europe/London

Enroll