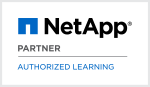 Integrating Hybrid Clouds with Amazon Web Services (INTHCDF)
Who should attend
NetApp Employees, Partners and Customers
Certifications
This course is part of the following Certifications:
Prerequisites
Basic computer networking knowledge
Course Objectives
Explain the value of the Data Fabric and NetApp Private Storage for Cloud (NPS for Cloud)
Describe NetApp Private Storage (NPS) networking requirements
Deploy a hybrid cloud for customers
Configure an Amazon Virtual Private Cloud environment and an Azure Virtual Network environment for the hybrid cloud
Use PowerShell in a Data Fabric environment and extend customers' Microsoft Active Directory into the cloud
Explain the features of NetApp ONTAP Cloud software and NetApp ONTAP Select software
Use OnCommand Cloud Manager to deploy ONTAP Cloud instances and to create SnapMirror relationships between ONTAP Cloud software and data center clusters
Deploy a NetApp AltaVault appliance with Amazon Simple Storage Service (Amazon S3) buckets in AWS as backend storage
Use an AltaVault appliance to migrate data between AWS and Azure
Use the Data Fabric Solution for Cloud Backup to restore data
Use the Cloud Sync service to synchronize NFS data between on-premises storage and cloud-based storage
Follow On Courses
Course Content
This course familiarizes you with NetApp hybrid cloud, Microsoft Azure and Amazon Web Services (AWS) solutions and shows you how to weave the solutions into the Data Fabric powered by NetApp. In numerous hands-on exercises, you use NetApp and third-party tools to practice how to manage, move and protect data throughout the cloud.
Online Training
Duration 3 days
Classroom Training
Duration 3 days
Schedule
English
German
Time zone: Central European Summer Time (CEST)
French
Time zone: Central European Summer Time (CEST)
Guaranteed date: Fast Lane will carry out all guaranteed training regardless of the number of attendees, exempt from force majeure or other unexpected events, like e.g. accidents or illness of the trainer, which prevent the course from being conducted.
Instructor-led Online Training: This computer icon in the schedule indicates that this date/time will be conducted as Instructor-Led Online Training.
Slovenia
Currently no local training dates available. For enquiries please write to info@fastlane.si.