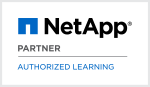 OnCommand Insight: Business Insights (OCIBI)
Who should attend
Customers
Infrastructure Engineer
NetApp Partners
Sales Engineers
Course Objectives
Describe general organizational-based reporting needs
Use queries, widgets, and dashboards to display day-to-day operational reporting information
Describe the OnCommand Insight data warehouse structure (DWH)
Address business reporting requirements relating to chargeback, virtualization, and storage pool topics
Describe where to find data warehouse reference documentation and how to maintain a healthy data warehouse
Course Content
In this course you will become familiar with some of the most important features of OnCommand Insight relevant to the day-to-day management, monitoring, and trouble-shooting of data infrastructures. This course concentrates on the reporting features of OnCommand Insight and the OnCommand Insight Data Warehouse. This course demonstrates how to use OnCommand Insight to perform operational reporting that aid in daily administrative tasks. This course will also demonstrate how to use IBM Cognos Workspace Advanced to perform Business Reporting. You will also learn how to create customized reports and a basic understanding of how to extend Insight to meet other business reporting needs.
Online Training
Duration 2 days
Classroom Training
Duration 2 days
Price
(excl. tax)
Eastern Europe:

US$ 1,800.—

Bulgaria:

US$ 900.—
Schedule
English
German
Time zone: Central European Summer Time (CEST)
Instructor-led Online Training: This computer icon in the schedule indicates that this date/time will be conducted as Instructor-Led Online Training.
Slovenia
Currently no local training dates available. For enquiries please write to info@fastlane.si.
Europe
Germany
Online Training

This is a FLEX course in German language.

Time zone: Europe/Berlin

Enroll

Online Training

This is a FLEX course in German language.

Time zone: Europe/Berlin

Enroll
Asia Pacific
India
Online Training

This is a FLEX course in English language.

Time zone: Asia/Calcutta

Enroll