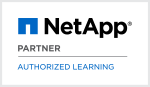 OnCommand Insight: Intelligent Operation (OCIIO)
Who should attend
This course is intended as an introductory course for end users, as well as internal NetApp sales and partner resellers.
Prerequisites
OnCommand Insight: Fundamentals - WBT (Required)
Course Objectives
Create near-real-time visualizations of data infrastructure
Implement and monitor policies for data-path infrastructure
Locate potential delays in network performance
Perform root cause analysis of issues that degrade performance
Implement proactive application-level performance monitoring
Identify the NFS client hosts that contend for resources
Seamlessly integrate new assets into a data infrastructure
Course Content
In this course, you become familiar with some of the most important features of NetApp OnCommand Insight, relevant to the day-to-day management, monitoring, and troubleshooting of data infrastructures. The course concentrates on the Insight features that aid in daily system administration tasks. If you are interested in Insight features that relate to business reporting or IT department integration you should look for course offerings specific to those topics. The course takes you through a typical storage administration issue and the Insight features that you can use to resolve that issue. By learning how to resolve specific administration problems, you should gain a basic understanding of how to extend the Insight feature set to other issues. You will also learn how to add new assets to an Insight monitored infrastructure.
Online Training
Duration 2 days
Classroom Training
Duration 2 days
Price
(excl. tax)
Eastern Europe:

US$ 1,800.-

Bulgaria:

US$ 900.-
Schedule
German
Time zone Central European Summer Time (CEST)
Online Training
This is an German language FLEX course.


Time zone: Central European Summer Time (CEST)
Guaranteed date: Fast Lane will carry out all guaranteed training regardless of the number of attendees, exempt from force majeure or other unexpected events, like e.g. accidents or illness of the trainer, which prevent the course from being conducted.
Instructor-led Online Training: This computer icon in the schedule indicates that this date/time will be conducted as Instructor-Led Online Training.
Slovenia
Currently no local training dates available. For enquiries please write to info@fastlane.si.
Europe
Germany
Online Training

This is an German language FLEX course.

Time zone: Europe/Berlin

Enroll