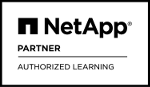 ONTAP SMB Administration (CIFSAD)
Course Overview
This course extends the CIFS information that is found in the ONTAP Cluster Administration course. This course reviews SMB and explores in more detail SMB 3.x and the features of ONTAP 9 software that support the SMB protocol. The exercises are accomplished using ONTAP 9 software.
Who should attend
Professionals who implement SMB solutions who use NetApp storage systems
Prerequisites
Familiarity with Microsoft Windows Server 2012
Familiarity with Microsoft Active Directory
Course Objectives
This course focuses on enabling you to do the following:
Explain the CIFS and SMB protocol
Demonstrate the Windows PowerShell CLI
Configure SMB features using ONTAP 9 software
Create and manage SMB shares and sessions
Secure SMB sessions
Configure ONTAP for multiprotocol data access
Discuss SMB advanced topics, such as opportunistic locks (oplocks), BranchCache, auditing, group policy, automatic home shares, symbolic links (symlinks), and widelinks
Online Training
Duration 1 day
Price
(excl. tax)
Classroom Training
Duration 1 day
Price
(excl. tax)
Eastern Europe:

850.— €

Turkey:

US$ 900.—

Bulgaria:

US$ 450.—

Slovakia:

US$ 900.—
Schedule
English
German
Time zone: Central European Time (CET)
Polish
Time zone: Central European Time (CET)
Guaranteed date: Fast Lane will carry out all guaranteed training regardless of the number of attendees, exempt from force majeure or other unexpected events, like e.g. accidents or illness of the trainer, which prevent the course from being conducted.
Instructor-led Online Training: This computer icon in the schedule indicates that this date/time will be conducted as Instructor-Led Online Training.
Slovenia
Currently no local training dates available. For enquiries please write to info@fastlane.si.
Poland
Online Training

This is a FLEX course in Polish language.

Time zone: Europe/Warsaw

Enroll

Online Training

This is a FLEX course in Polish language.

Time zone: Europe/Warsaw

Enroll

Online Training

This is a FLEX course in Polish language.

Time zone: Europe/Warsaw

Enroll

Online Training

This is a FLEX course in Polish language.

Time zone: Europe/Warsaw

Enroll
Europe
Germany
Online Training

This is a FLEX course in German language.

Time zone: Europe/Berlin

Enroll

Online Training

This is a FLEX course in German language.

Time zone: Europe/Berlin

Enroll

Online Training

This is a FLEX course in German language.

Time zone: Europe/Berlin

Enroll

Online Training

This is a FLEX course in German language.

Time zone: Europe/Berlin

Enroll

Online Training

This is a FLEX course in German language.

Time zone: Europe/Berlin

Enroll
Switzerland
Online Training

This is a FLEX course in German language.

Time zone: Europe/Zurich

Enroll

Online Training

This is a FLEX course in German language.

Time zone: Europe/Zurich

Enroll

Online Training

This is a FLEX course in German language.

Time zone: Europe/Zurich

Enroll

Online Training

This is a FLEX course in German language.

Time zone: Europe/Zurich

Enroll