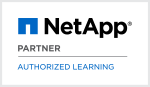 Implementing VMware vSphere on ONTAP (IMPVMWAR)
Course Overview
In this course, you learn how to implement NetApp's Virtual Storage Console by deploying, managing, and protecting a VMware virtual infrastructure in both SAN and NAS environments using ONTAP. It also covers the implementation details for both traditional datastores and Virtual Volumes using Storage Policy Based Management. Monitoring of both traditional and VVOL performance characteristics are covered in lecture and hands on labs.Updated to align with ONTAP v9.4.
Who should attend
NetApp employees, channel partners and customers
Prerequisites
The following training classes or equivalent knowledge are recommended:
Course Objectives
This course focuses on enabling you to do the following:
Describe the components of NetApp storage and how they integrate into a vSphere environment
Identify the types of datastores created by the Virtual Storage Console (VSC)
Explain how VSC provides an automated datastore provisioning capability
Describe the VVol datastore management process
Create VVol datastores and VVols
Identify performance characteristics of VVols using VSC
Monitor virtual machines with VSC performance dashboard
List the customer implementations for backup, restore and cloning capability when integrating vSphere with NetApp
Online Training
Duration 2 days
Classroom Training
Duration 2 days
Price
(excl. tax)
Eastern Europe:

US$ 1,800.-
Schedule
English
Time zone Central European Summer Time (CEST)
1 hour difference
German
Time zone Central European Summer Time (CEST)
French
Time zone Central European Summer Time (CEST)
Instructor-led Online Training: This computer icon in the schedule indicates that this date/time will be conducted as Instructor-Led Online Training.
Germany
Online Training

This is a FLEX course in German language.

Time zone: Europe/Berlin

Enroll

Online Training

This is a FLEX course in German language.

Time zone: Europe/Berlin

Enroll

Online Training

This is a FLEX course in German language.

Time zone: Europe/Berlin

Enroll
France
Online Training

This is a FLEX course in French language.

Time zone: Europe/Paris

Enroll