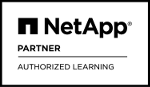 NetApp Certified Hybrid Cloud Administrator (NCHC-ADMINISTRATOR)
NetApp Certified Hybrid Cloud Administrators have proven skills in performing in-depth support, administrative and data protection functions, detailed knowledge of cloud data services security, deployment and performance management for NetApp cloud data services in supported public cloud providers, including Amazon Web Services (AWS), Google Cloud Platform (GCP) and Microsoft Azure. They are also able to manage NetApp data fabric solutions in hybrid cloud environments.
Prerequisites
Candidates for NetApp Certified Hybrid Cloud Administrator certification should have at least 6-12 months of field experience administering NetApp data management solutions in the cloud. Candidates taking NetApp Certified Hybrid Cloud Administrator exam should have a working knowledge using Cloud Volumes Service, Cloud Volumes ONTAP, Cloud Manager, Cloud Sync, SaaS Backup, StorageGRID.
Exams
NetApp Certified Hybrid Cloud Administrator NS0-303
The NS0-303 Exam Includes the Following Topics:
NetApp Hybrid Cloud Fundamentals
Identify networking concepts
Identify compute concepts
Identify hybrid cloud storage fundamentals
Describe how to automate configurations
Describe availability concepts
Implementation
Identify how to provision CVO
Identify how to provision CVS or ANF
Identify how to provision a NetApp StorageGRID solution
Identify how to provision NetApp cloud management tools
Administration
Demonstrate knowledge how to administer the NetApp hybrid cloud
Describe NetApp supported container solutions
Demonstrate knowledge of NetApp data protection options for hybrid cloud workloads
Security
Describe data security concepts
Identify data compliance concepts
Troubleshooting
Describe monitoring tools for hybrid cloud
Describe NetApp hybrid cloud solution troubleshooting