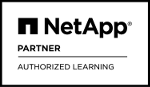 NetApp Certified Implementation Engineer – SAN Specialist, ONTAP (NCIE SAN CDOT)
NetApp Certified SAN Implementation Engineers have proven skills in understanding customer storage requirements, implementing Fibre Channel and iSCSI SAN solutions, and integrating different operating systems and applications such as Microsoft® Exchange, Microsoft SQL Server™, DB2®, and Oracle®.
Prerequisites
In order to achieve your NetApp Certified Implementation Engineer—SAN, Clustered Data ONTAP certification, you must first complete the requirements for the NetApp Certified Data Administrator, Clustered Data ONTAP (NCDA cDOT) certification, which requires that you pass the following:
NetApp Certified Clustered Data ONTAP Administrator (NS0-156) exam
If you have already passed the NCIE exam, you must still also pass the NCDA before being granted the NCIE credential.
In addition to the training listed below, we recommend that NetApp Certified Implementation Engineer–SAN, Clustered Data ONTAP candidates have six to 12 months of experience in planning, implementing, and validating end-to-end SAN solutions for customers in FC and iSCSI environments. Experience in SAN implementation within virtualized environments and within clustered environments is highly recommended.
Recommended training for this certification
SAN Fundamentals on Data ONTAP (WBT)
SAN Design (WBT)
SAN Implementation – Switch Configuration (WBT)
NetApp Unified Connect Technical Overview and Implementation (WBT)

!
Take the practice test for this exam

Exams
NS0-506 NetApp Certified Implementation Engineer – SAN, Clustered Data ONTAP